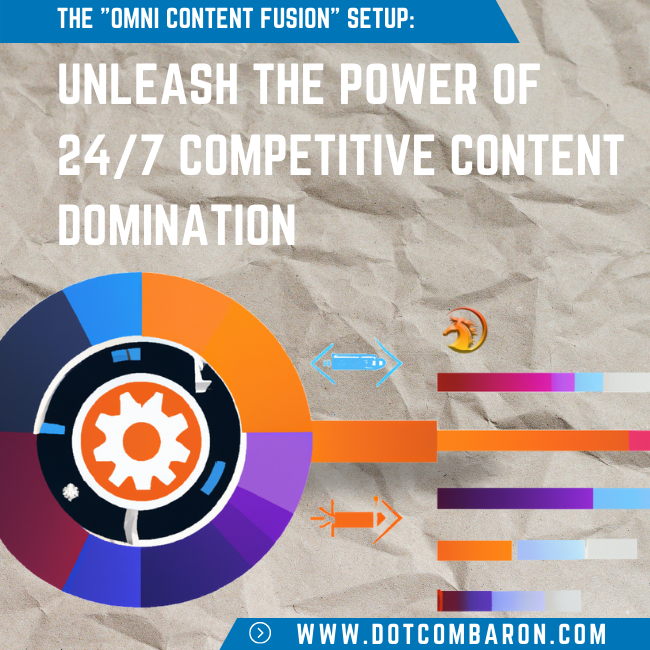 Welcome to the future of content marketing.
The "Omni Content Fusion" setup is a unique service offered by Dotcombaron that empowers you to stay ahead in your industry.
This innovative setup takes the content created by your competition and transforms it into superior, detailed, conversion-focused content for your own business, giving you a position of unrivaled dominance.
Our setup operates around the clock, providing a constant stream of content that keeps your audience engaged and your business thriving.
Here's how the "Omni Content Fusion" setup can transform your content marketing strategy:
Intelligent Competitor Content Analysis: The "Omni Content Fusion" setup doesn't just mimic your competitors – it intelligently analyzes their content, extracting key insights and strategies to enhance your own content.
24/7 Content Production: With The "Omni Content Fusion" setup, your business never sleeps. Our setup operates continuously, delivering fresh, relevant content that attracts and retains your audience.
Conversion-Driven Focus: The "Omni Content Fusion" setup doesn't just amplify the volume of your content – it amplifies its impact. Our conversion-driven approach means the content we create is designed to drive user action and increase your ROI.
Customizable Content Integration: Your brand is unique, and your content should reflect that. The "Omni Content Fusion" setup allows you to maintain your brand's voice and identity, integrating seamlessly with your existing site.
Continuous Content Updates: Stay ahead of the competition with continuously updated content. Our setup keeps your content fresh, relevant, and insightful, ensuring you remain a leader in your industry.
Detailed Analytics: Understand your content's performance with our integrated analytics. Use these insights to refine your content strategy and maximize your impact.
Ease of Setup and Maintenance: With The "Omni Content Fusion" setup, there's no need to stress over the technical side.
Harness the Power of Social Media: An Extra Edge of Domination

In the fast-paced world of digital marketing, keeping up with social media trends is no longer optional. It's vital. With the Omni Content Fusion setup, we've got you covered.

Not only does our unique setup draw from your competitors' websites, but it also feeds from their social media content.

Our service intelligently incorporates content from various social media platforms, expanding your content pool.

This means you can stay on top of trending topics, hashtags, and influential voices within your industry.

By tapping into the social sphere, we ensure that your content remains dynamic, up-to-date, and relevant.

This way, you can keep engaging your audience with fresh content round the clock while improving your reach, engagement, and conversions.

Social media is where most of your potential customers are active and engaging with brands.

With the Omni Content Fusion setup, you can leverage this, dominating the digital arena through an ever-growing, conversion-focused content strategy.

Remember, the more your competition posts, the more fuel you have to power your digital dominance.

Don't just compete. Dominate the game with the Omni Content Fusion…
Is That Everything?
No, imagine you would do the same as your competition: Just creating content without proper distribution…
Each piece of content will be automatically distributed to all your social media; you can even send the content to 15 Facebook pages, automatically.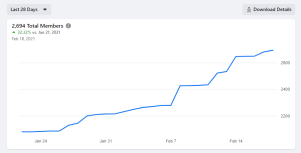 Automated Social Media Distribution: 24/7 Content Syndication

Capitalizing on the vast reach of social media has never been easier with the "Omni Content Fusion" setup.
Alongside producing unmatched content for your website, this exclusive setup ensures that each piece of content is seamlessly distributed across your social media platforms, operating continuously, day and night.

This feature allows you to engage with your audience on their most frequented platforms.
With the "Omni Content Fusion" setup, you're not just refreshing your website with premium content, but also establishing a resilient and regular presence on social media.

Whether your followers are on Twitter, Facebook, Instagram, Tumblr or LinkedIn, they'll be constantly updated with your freshest content.
This helps sustain your audience's interest, foster interaction, and construct a robust online community that reaches beyond your website.
The automation aspect relieves you from the routine task of manual updates, freeing your time to concentrate on what you excel at – delivering exceptional value to your customers.

With the "Omni Content Fusion" setup, your content strategy works seamlessly, ensuring your message PENETRATES every segment of the digital landscape, boosting your online visibility and amplifying customer engagement.
"Domination is not about overpowering, it's about becoming so exceptionally good that the competition becomes irrelevant."
Setup and Maintenance
Dotcombaron handles the setup and can continue to manage the service for you, allowing you to focus on your business.
(There is another option which includes teaching and mentoring)
Don't let your competitors outpace you. Stay ahead with The "Omni Content Fusion" setup, and turn their efforts into your advantage.
Enjoy increased website traffic, enhanced user engagement, and boosted conversions. Experience the power of continuous content with the Dotcombaron's "Omni Content Fusion" setup.
The future of content marketing is here. Don't just compete – dominate with the "Omni Content Fusion" setup.
Contact Dotcombaron today and see if your business would be a good fit…
NOTE: This service stands unparalleled in its uniqueness and effectiveness. We prioritize dedicated professionals who are committed to delivering exceptional value within their respective market domains.
GUARANTEE TRAFFIC Increase:
At Dotcombaron, we stand behind our "Omni Content Fusion" setup service with an unparalleled commitment to your success. We are so confident in the efficiency and effectiveness of our comprehensive system that we guarantee a noticeable increase in your website traffic after implementing our setup.
From automatic, 24/7 content generation to industry domination, our service is designed to give your business a significant boost in its online presence. If, however, after implementing our service, you do not see a marked increase in your website traffic, we will honor our commitment to your success with a complete refund of your purchase price.
Here's our guarantee in detail:
Traffic Increase: We guarantee that after the setup and integration of our "Omni Content Fusion" service, you will experience a significant increase in your website traffic.
60-Day Observation Period: We provide a 60-day observation period post-setup. If you do not notice an increase in traffic during this period, you are eligible for our money-back guarantee.
Money-Back Guarantee: If the increase in traffic isn't apparent during the observation period, simply get in touch with us. We will refund your setup cost in full without any hassle.
Ongoing Support: Even after the guarantee period, we remain at your side, offering you support and assistance to ensure you get the most out of our service.
This guarantee affirms our confidence in our service and commitment to your success. With the "Omni Content Fusion" setup, your business will thrive, or your money back. That's our promise to you.