Blog Post video:
Why Would I Even Bother To Write About Etsy?
Well, since I am running into a lot of people, from AirBNB.com people to people in restaurants, from supermarkets to airports, in different countries…
Anywho…
And when we start talking about what I do, I am a business growth strategist, they always ask how they could start making some extra money…
Anyway, after figuring out a bit of their attitude and current knowledge, I recommend in most situations to start with Etsy.com store selling…
…AND I provide the opportunity to give them the necessary digital stuff to sell…
NOW, since I have to repeat the same story every time I decided to make short blog posts about it…
Before we begin:
Yes, I did sell on Etsy before and no I don't anymore because it's simply not interesting for me because of my other projects and businesses..
So, I sold the Etsy stores…
Now, that's out of the way…
How To Set Up Etsy?
Go first through the content of this post, make notes and take action…
Go to Etsy.com to start…
Before we continue, allow me to put in a disclaimer:
Yes, I am helping people out with providing digital products BUT you need to put in the work and especially in the beginning you need to put some effort into the setup..
And yes, you need to learn a thing or two but in this post I am sharing the basic knowledge to get you started and at the end of this post the opportunity to contact me and I will provide you with the items to get you started…
Keep in mind:
If you got a 9-5 job you won't build any monetizable assets, you just come and go, now you have the chance to build an asset and the opportunity to actually increase your income, digitally…
…And yes, you can earn money while you're sleeping…
Pfew, Those Pointers Are Off My Chest and Let's Dive Into It:
35 Etsy Store Hacks: Unless your name starts with Albert and ends with Einstein – Make notes, screenshots, etc…
In order get ahead of the average game and get noticed by Etsy's alogrithm you need to optimize your Etsy store as detailed as possible so you do need Etsy store policies:
Create In Under 2 Minutes:
Update Etsy Policies:
This handy dandy video includes a copy that you can use for your policies…
NOTE: Check video descriptions for additional value…
CReate post in Dotcom Stream ecommerce stream:
Make more sales, reading this Etsy PDF: –
https://drive.google.com/file/d/1cEosuEMF_4_IMkihFRuI6ipeF9_6uzbk/view?usp=drivesdk
Note: You have to contact me for access
How To Increase Traffic To Your Etsy Store?
Use Social Media:
Use Twitter to share your listings
Instagram
Pinterest
Join Facebook groups: Search on Facebook "Etsy sellers" or anything else related to the people that you want to sell to…
Pinterest Tool: Tailwind.com
NameCheap Social Media app:
What To Sell on Etsy?
So the reason that I am actually mention the following products is because I sold them in my stores.
And also, these products have in common all digital products so you not you don't have to worry about creating the products, investing in stock, no upfront of costs, etc…
Niche specific website setups
What Else To Sell on Etsy?
Just go on https://youtube.com and use this search term – and I am recommending digital items because of the previous mentioned reasons…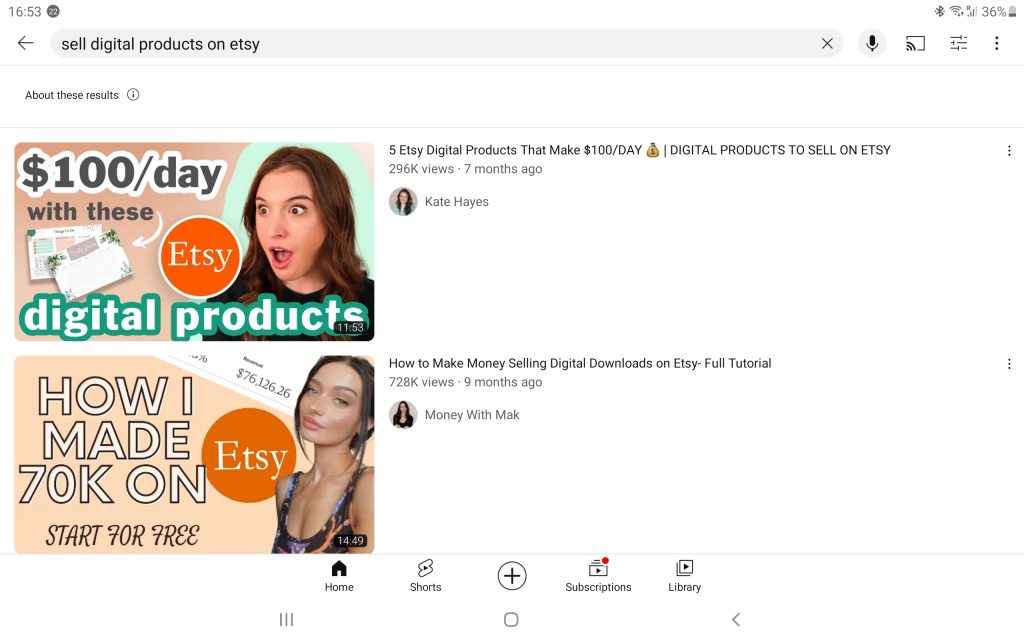 EXTRA Information:
DM me for more information but show me the notes you made from the videos provided…and your shop setup…
Want to know more about my business setup? Just check out the public available, click here: FullBlown Mindmap
And like with any kind of venture, you can do half work all do it all the way, it's up to you…
Subscribe to get updates about this post…