DotcomBaron's FREE PLR Library <<< Just click to check it out…
What is PLR?
PLR stands for 'Private Label Rights' which means you can do whatever you want to do with the content…
Sell, edit, brand it, OR …
…Give it away, like what we're doing here at: DotcomBaron's FREE PLR Article Library <<< Just click to check it out…
NOTE: Always check the included legal rights file…
Where To Get PLR Articles?
Google "PLR articles"
Forums
This is the easy part…
How to Monetize?
Create niche specific blogs => Drive traffic => Add hyperlinks and banners to the content
Use these articles to build trust – Consider this situation: A possible client checks you out and a competitor, you with 50+ articles or the competition with 5 articles, guess who they will choose …
Use to create videos – turn text in to videos to get traffic to any links: Affiliates, your service/products
Use educational content for your email list and build trust with your subscribers – You think that they are all going to use CopyScape.com each for your email letters, NO!
Send traffic to your PLR blogs and OFFER more value on your email list => so they need to sign up
Attract people by covering sub-niches and offer a higher value product
Rewrite PLR:
One "downside" would be that PLR isn't unique content but these days we got tools for that…
I would recommend RYTR.com, works flawless and straight forward OR if you prefer to "rewrite" PLR articles in bulk then you could go WordAI which has a great bulk rewriting feature…
And to be 100% straight up, we also use the PREMIUM plugin of Scrapebox…You can check out some of our Scrapebox in action videos on TikTok…@thedotcombaron
PLR Content Enriching TIPS:
Add more in depth value to sentences and paragraphs
Add images
Add infographics
Embed content related YouTube videos
Add hyperlinks
Change words
Add call to actions
Use sites as: answerthepublic.com to add more value
Cut articles up and use as social media content
Use local terms…
A little after-word: Make sure that the article is interesting enough to stick around and finish with a call to action and don't use as-is…
Click the image below to visit DotcomBaron's FREE PLR Articles Library:
Keep in mind when you buy PLR in huge packages you will need to go manually through all the articles folders and organize them…UNLESS you obviously buy tiny packages but who likes to go tiny, right?
Anyway in our free PLR article library everything is indexed, categorized and you simply use the search bar to get the articles you want, freaking easy nothing sleazy 🙂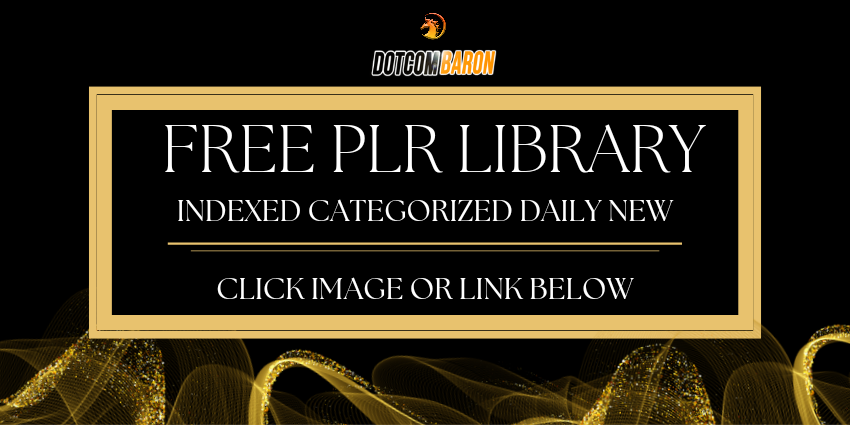 DISCLAIMER: And yes, it's better to write unique content or hire copywriters…